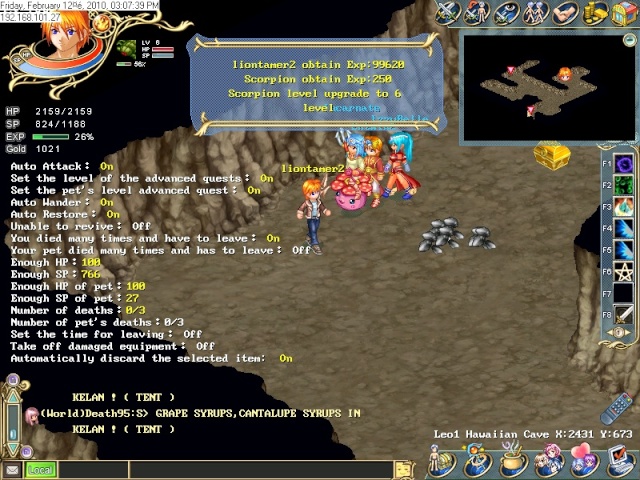 Still bursting. My 1yr aniversity is in March sometime. 1yr straight of bursting. Notice that Liontamer2 is a Fire and he got almost 100k XP xD
all fire in team and 100k % wtf tell me ur secret





Posts

: 75


Join date

: 2009-12-29



Single hit limitation is 65k. So if your party can do more than 65k in a single hit total. You will need a pet that splits damage. Hence me using Scorpians. There red sting does 3 hits and splits damage down into 3rds. Which gives total damage potential of 195k total damage. And in bursting more damage equals more xp.

All 3 Fires I am using have the potential of doing almost 100k of damage. Which is greater xp than a cow can ever produce. Since they are limited to maximum 65k damage on single hit.

Trick for 4 Fire burst is a Fire Wit with JS.

Fire Wit Remote
Soul Dodge, Cuss(JS), Hot Fire, Atk til done.

Fire Killer Remote
Defend, Feiry Atk -> Pet, Hot Fire -> Self, Atk til Done

fire bursting.
Def, Fiery Atk -> Pet, Poison, Slowdown til done

Water Bursting
(Most times Ima bursting pet. and in that screen shot I was bursting Shasha xD)
Magic Recovery, Water Shield -> Pet, Sleep, Freeze til Done

Wind Bursting
Defend, SpdUp->Pet, Cord, Shield Smash til Done

Earth Bursting
(Earth is the biggest winner in this setup. They get like 70k on normal XP)
Terrafication, Shield Defence -> Pet, Tree Bind, Blackage til Done.

Thats how to burst with a Fire Wit with JS in party and not using Shrink. Gl lvling.
this is great did u figure out all that by urself?
wow cool hope i have a fire mage with JS



Posts

: 75


Join date

: 2009-12-29



Yep. I figured everything out by myself. Most sites cover what I call noob bursting. The traditional way of leveling. But when you start to have a bunch of rbs available to you. It is better to find ways of increasing XP. Which btw if you didnt know. Shrink increases xp gained in burst by about 20-25%. Wit JS increases damage by 50% so you gain about 1.5-2x the xp using it over Shrink. Shrink is only really needed for noob bursting when A Water or Fire Wit is unavailable.
wow genuine. It makes sense, i have never seen a fire doing the job of a water but the picture is there and the fire got better exp than the normal way. Good Job Dark keep making us proud!

---
Permissions in this forum:
You
cannot
reply to topics in this forum