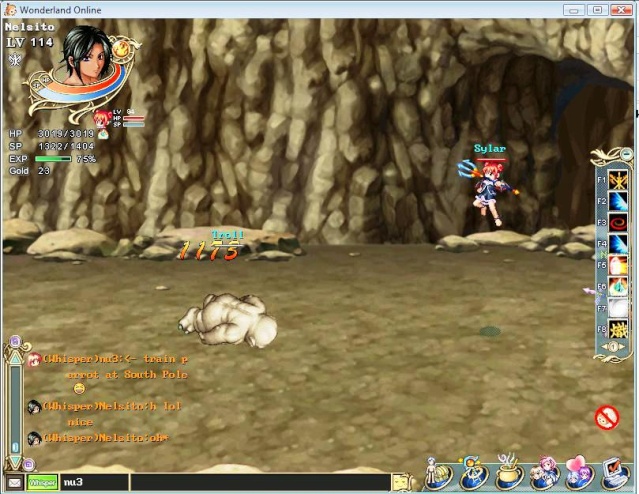 Wel... Trying to Test out my eva, figuring out how useful she can be in a quest or in a pk. Well i have seen many weird things but this is over the top! Forst of all eva is a dang Hybrid. First fault of the day. Her speed sucks! Second fault of the day. Her con sucks the most. Thirth fault. Her skill sucks even harder but on winds. Don`t know how to call that. Her mess is good. First sucsess of the day. Her sp is over growded. And also she makes dang hits when she critical. Im barfing right now.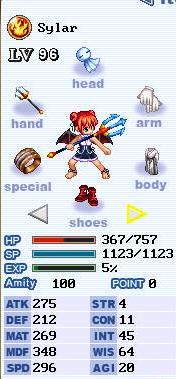 Tell me how useful an it be besides her mess?
Still trying to beleive on her critical hit dammit!
I like my Eva I use her on TW or PK when I do. Her Mess is super useful for annoying Fires and Waters. Since it isnt a Seal the magic Set offers no protection vs it. Eva is not an attacker period. She isnt really hybrid cuz she always has low str

. Ur Eva went over board with Wis. You gotta control that to turn her into a descent pet. And unless ur PC, which gets 3 points per lvl compared to 1 for Pets, anywhere near 300 spd Below lvl 100 is good for a pet. If you fixed ur Eva Wis and distrubuted them to Con and Agi til she had like a 30Wis and then bursted her to lv180. I bet she be sitting round 700-900 matk , 400-500spd and maybe about 1.1-1.4k hp naked and around 800sp. Not a bad Pet if you ask me.
But to think. Eva reminds me alot of Niss. Niss has awesome attack but real low hp. Eva aint no Niss by Far. But she suffers from the same complaint. Low hp. Think back when your Char was lv96. How close are ur stats to the stats u have now. Probally not even close

What Im tryin to say is you cant really tell if a pet is goin to be good til your done leveling it. If you see a problem in stats. Stop leveling it and fix it or hold off til you can. But dont complain about Eva. She is super awesome pet if your willing to invest in her. Just to show you how close ur Eva is to mine. I will post picture and show you that even tho she isnt greatest right now I am still willing to invest in her.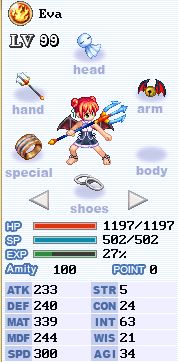 Lutenant





Posts

: 126


Join date

: 2010-01-03


Age

: 41


Location

: Virginia, USA



As far as i c Eva made me felt down. I expected good things but looking at this point it will be a pain to my butt to get her status as much as i like. As my build character i`m a quest type and im not interested in the pk side for now on Nelsito. Still really disapointed and is not fair if talking on diferences betwen other ppl pet. I will stop bursting her maybe later i`ll try to lvl her but i`m not going to spend a lot of money just because the dang game mess my dang eva`s status. Sry to say this but my eva have low str but got a lil diference between her matk and her attack. Hybrid stuff!!!!! take a look see for urself. Ur eva seems to be what i call so far so good but mine its just like her skill a mess. Sry not working for me. I don`t want to end up with like 2k sp and 500 hp when she reach lvl 180 cause that`s not gonna happen. Hybrid pet won`t work a thing.

I think some of the best pets for quests that are burstable is Sam, Magellan, and Victoria. Normally they get descent atk and Con for atk and hp. If you are willing to invest real money in ur pet. I would do Xaolan and Funnel everything to Con and about 50Wis. We talking quest build and not pk. Xaolan has Stone Wall which will be very useful in alot of quests. But sadly she has the same flaw as Niss and Eva. Low HP. So you would have to level her to lv20 and use Pet Return Scrolls or Pet Lethe Scrolls and funnel every thing into Con and Wis. But when you are done. You will have an earth Pet then has about 2k+ hp and 1k+ SP that can shield ur party while ur party earth Terras everyone.

Shasha is another descent pet for quests. But her flaw is low hp too. So she is a money pet. So if your looking to spend no moeny or as little as possible. Sam, Magellan, and Victoria probally be ur best bet to burst and not have a wacked out pet. Just keep an Eye on them til lv50 and if they are putting points all wrong from what you want. Stop leveling them immediately. It is alot easier to fix a pet @ lv50 or below with Scrolls than a pet near lv100. Like your Eva.
Lutenant





Posts

: 126


Join date

: 2010-01-03


Age

: 41


Location

: Virginia, USA



Well Magellan was always y choice. So sad he doesn`t have any seal skill. anyways here is some test with his damage so far. he got 551 HP with out any +HP added.

---
Permissions in this forum:
You
cannot
reply to topics in this forum